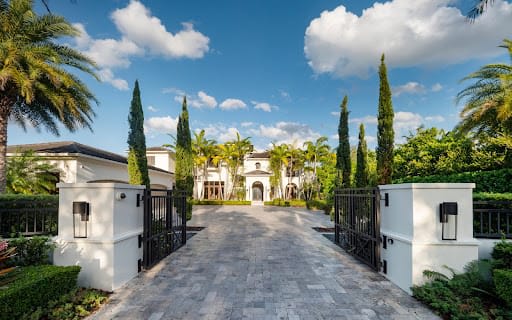 Photo courtesy of Shutterstock
Mansions in Brentwood, CA are some of the most beautiful homes in Southern California. With tree-lined streets and pristine curb appeal, it's easy to understand why so many prospective buyers fall in love with this area. Yet, as a homeowner who lives in the area, you might be inspired to elevate your home's luxury. If you are someone who enjoys vacationing in five-star resorts in Central America or the Caribbean, then emulating your home after a boutique resort could really bring your property to a whole new level. Here's how to turn your house environment into an exotic paradise.
Start with curb appeal
Whether in business or in real estate, first impressions matter. This is one of the many reasons why curb appeal is so important for any property. Even if you have decent curb appeal now, there are always ways you can upgrade your home's exterior. If your home is currently a blank canvas or exceedingly traditional, then giving it a boost is an excellent first step into making your home feel more resort-like. Here are some curb appeal tips that can turn your home into a world-class resort:
Choose lush landscaping to highlight the features of your home

Replace your concrete walkway with stylish pavers or tile for a more exotic look

Invest in flower boxes and plant colorful foliage

If your front door does not fit your new decor theme, refinish it or replace it with a door that does

Replace your boring doorbell with a stylish door knocker. A pineapple is a classic choice that's both welcoming and exotic

Create an inviting sitting area on your front porch

Place hanging plants for more greenery

Add lights to your new walkway
With an exterior makeover, you are one step closer to creating the resort-style home of your dreams.
Think about the landscaping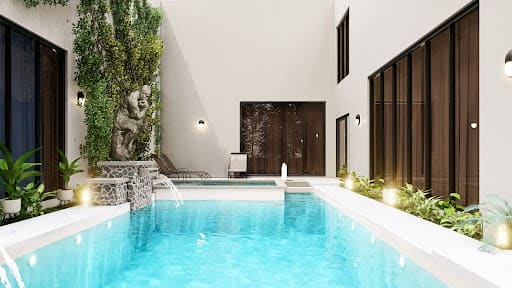 Photo courtesy of Unsplash
While curb appeal is a great start to amplifying your Brentwood home, the side and backyard will need just as much attention in order to create a cohesive, serene space. Add a courtyard to your side yard to integrate the front yard and backyard spaces. Courtyards are common features in upscale resorts, so adding a courtyard is an excellent way to create entertainment space while adding a touch of class to your outdoor space. Make sure you install extra lighting to your courtyard space so that it's safe for your guests to walk through at night.
Transforming the backyard is where you will have the biggest impact. Hire a landscape architect to get the most out of your exotic space. Remember, your objective is to turn your outdoor space into a backyard oasis. Here are some tips for how to transform your backyard:
Add resort-style amenities, including a

swimming pool

, a spa, an outdoor kitchen, and other luxurious features

Thoughtful design of the deck and patio can create a major impact

Add water features, including fountains or waterfalls for a zen retreat

Plant trees and other vegetation for a lush paradise

Install pavers for a stylish walkaway
Integrate the indoor and outdoor spaces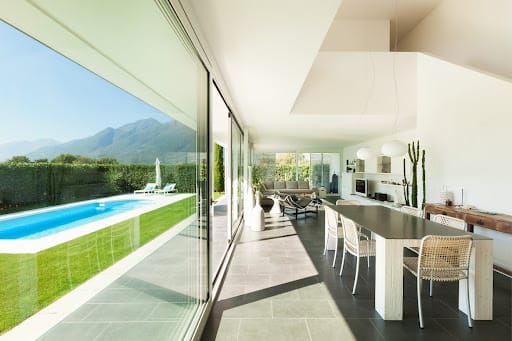 Photo courtesy of Shutterstock
One of the greatest aspects of going to an all-inclusive resort in places like Mexico and Costa Rica is the thoughtful designs of the resorts themselves. Especially in places with a lush, tropical climate, the indoors and outdoors are often integrated together. Windows very rarely have screens on them. They are often open to let the fresh air in. Many of the spaces integrate the indoors and the outdoors to the point where you're not sure if you're fully inside at all.

This is the feeling you want to achieve when turning your home into an exotic retreat. This symbiosis can be achieved in a number of ways, such as installing accordion doors in your living room or adding an outdoor living room onto your outdoor deck. Integrating the indoor and outdoor spaces not only makes your home feel grander, but it also makes the space more tranquil and inviting. Southern California has beautiful weather for the majority of the year. Integrating the indoor and outdoor spaces takes full advantage of that.
When in doubt, go green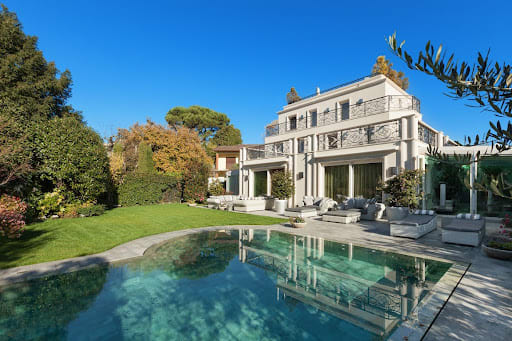 Photo courtesy of Shutterstock
When trying to create an exotic paradise, when of the key elements is plant life. Add as many plants to your interior and exterior spaces as possible. This is a low-budget way of achieving a serene space that nearly everyone could accomplish. Choose greenery that will thrive in your home. Plants should be strategically placed based on where they would get the proper amount of sunlight. Also, remember to water your plants as needed.
Depending on where you are placing your plants, you can even add an irrigation system that waters your plants as needed. If you have the budget and the space, you can even build a conservatory on your property, which protects your plants from the elements year-round.
Take inspiration from 5-star resorts
There is a reason why all-inclusive resorts are popular with so many people. You have the freedom to do whatever you want in the day, there are plenty of food and drink options available at all times, and you aren't tethered to a schedule. Luxury resorts are tranquil by design, which is one of the many reasons why people choose them as vacation destinations.
But do luxury amenities have to be exclusive to all-inclusives? Of course not. Take inspiration from some of your favorite luxury resorts when reimagining your space. Think of some of your favorite amenities at your favorite resort. If you did morning yoga on a daily basis, create your own yoga room to capture that feeling of zen. Your yoga space could even be part of your outdoor space. You could also install hammocks, fire pits, or other features in your outdoor spaces. The sky is the limit when it comes to transforming your home.
Ready to buy or sell Brentwood luxury real estate? With over 30 years of industry experience and area expertise, Richard Lombari is your to-go source for all things real estate. Contact Richard to start your house hunt today.